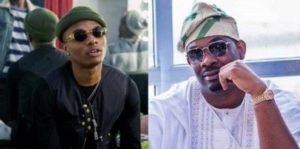 Since the news of the death of D'Banj's son, Daniel Oyebanjo III; celebrities have been sending condolences to the bereaved family. Davido had earlier sent his from the BET stage as he received the Best International Act Award.
The likes of Wizkid, Don Jazzy and former President of the nation, President Olusegun Obasanjo; have joined in mourning the loss of the 1-year old son of one of Africa's biggest music exports: D'Banj. The condolences were sent via the social media platforms of the aforementioned persons, particularly via Twitter and Instagram.
See posts below.
Wow!!! !! Praying for strength for u and your family Dbanj! God's own
My heart and prayers are with Dapo and his family. No parent should ever have to bury a child. As a parent, it's the worst thing imaginable. May God give you the fortitude to bear the loss, Dbanj.